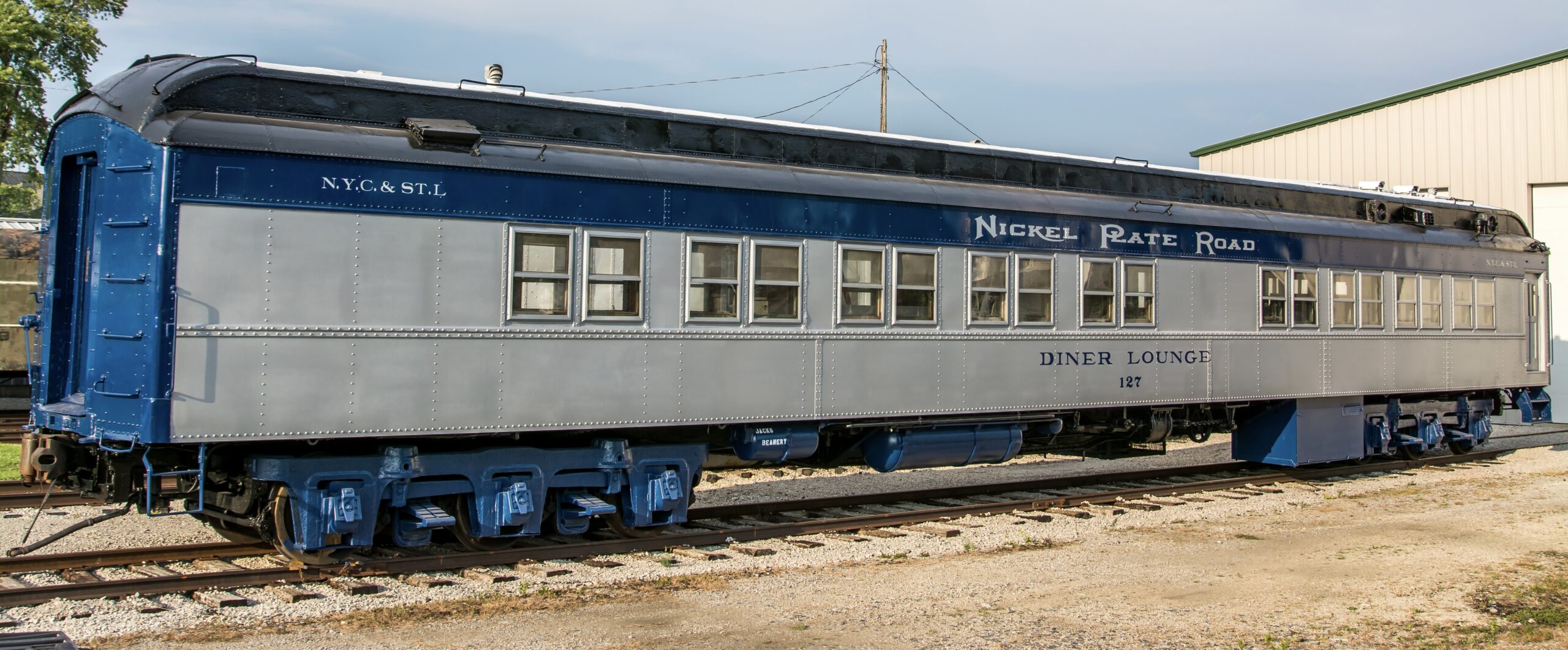 The Mad River & NKP Railroad Museum is pleased to announce the completion of the exterior restoration of NKP diner No. 127. This concludes a project that started in January of 2022. A successful matching donation challenge was initiated in early 2022, and donors generously supported the project by donating over $12,000 towards the diner.
About No.127
Built by the Pullman Standard Company in 1927, the car was originally numbered NKP 104. It was equipped with a 30-seat dining section, 17' long kitchen, and 10' pantry. In 1940, the diner was converted into a Diner-Lounge configuration at the Stoney Island car shop in Chicago, Illinois. This allowed for 18 dining seats, and a lounge with seating for 10. All Nickel Plate heavyweight dining cars were modernized after WWII except 104, it was the lone survivor to retain its clerestory roof. In 1949, the car was renumbered to 127 to prevent a numbering conflict with modern coaches being built. Even though it was never externally modernized, it did receive the blue and gray paint scheme (Bluebird scheme). No. 127 was the only NKP non-modernized heavyweight car to wear this paint scheme. After the Nickel Plate was absorbed by the Norfolk & Western Railway, all passenger operations ceased on NKP lines in 1965 and 127 was surplus. Shortly after, the N&W converted 127 for wreck train service at Conneaut, Ohio. The diner was brought to Bellevue in 1967. The car spent most of its time plugged in to stand-by power and ready to go at a moment's notice to feed crews called out to clean up derailment sites. In 1995 the Bellevue Wreck Train was disbanded, and the diner went into private ownership for a short time before coming to the Mad River & NKP Railroad Museum. In 2001, the diner was dedicated to the late Jack Eichenlaub, Senior General Car Foreman/Wreck Master Bellevue, and friend of the museum.
Scope of Restoration
Working on 127 has been extraordinarily challenging given the frequent use of the car. After the 2021 Holiday Train, work began on the exterior of the car. Window work was necessary, three exterior doorways were restructured, 30 feet of lower side sheet was replaced, side sill repairs were made in several places, and the car was painted in the blue and aluminum gray "Bluebird" paint scheme.
The car was unveiled to the MR&NKP membership at the August 5th members annual BBQ. It was finally moved outside of the Mary Cooper Restoration Building on August 8th. It will be used for food service during the Mad River & NKP's Annual Car/Truck show on September 2, 2023.
This would not have been possible without the hard work of our members that dedicated hundreds of volunteer hours towards this project. The Mad River & NKP Railroad Museum would also like to thank all our generous donors and supporters.